It's the most wonderful time of the year… that time when you can't watch the TV or stream your favourite show without being confronted with multiple Christmas adverts. Some people love them, others love to hate them – but most of all, they sure like to talk about them, and at Boxclever we can't help but get involved.
This year we have been observing how Christmas adverts have been tapping into what matters most to consumers in 2022, using our social listening platform to see how this is playing out in conversation and reactions online.
Firstly, what do we think matters to consumers for Christmas 2022?
Having spent the year speaking to customers and analysing data on behaviour and attitudes, we feel we have a pretty good idea about the key sentiments that are feeding into the festive mood in 2022.
Using social intelligence to explore these themes, we have identified the following key trends:
Unity: As we left the isolation and re-evaluation of our pandemic lives behind us, we have noticed that the feeling of being connected and united with our local and wider communities is still hugely important. This year over 1M conversations on Twitter mentioned the term 'Togetherness' – with peaks seen at the end of February during the start of the war in Ukraine, in September during the announcement of the Queen's death and funeral, and remaining high in November and December as we cheered on England in the world cup. It's clear that being part of a united community and feeling connected still matters a lot to consumers.
Togetherness
Little moments of Joy: The Collins Dictionary named 'permacrisis' this year's word of the year – world events and economic instability have meant sometimes it has been hard to feel joyful about the big things, therefore smaller moments of joy have become more important. Ideas around 'micro-dosing happiness' started to emerge in the wellness world, and smaller ways to boost our emotional well-being were being talked about. There were over 346k conversations around 'small happiness' this year as people questioned what was most important to them and looked for moments of escapism.
❄️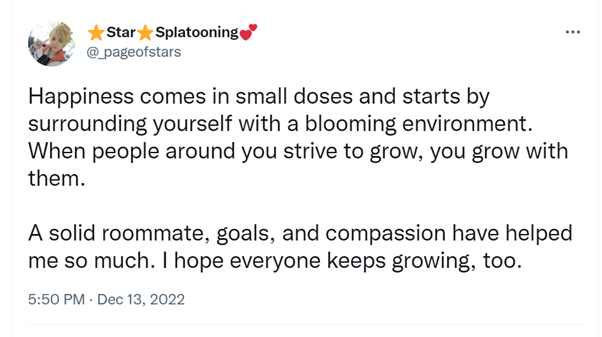 Awareness of inequality: The cost-of-living crisis has forced a sharp focus on inequality, and we have seen consumers become more aware and engaged with a desire for a re-balance. Conversations around supporting workers striking for better pay have grown this year, peaking at around 18k in September, compared to 2021 where the biggest peak in conversations was around 8k.
Strikes & support
Here are some of the Christmas adverts that have successfully tapped into these themes
The advert portrays a sense of unity showing a new foster parent trying to bond with his daughter by learning to skate. Moving the focus away from the gift-purchasing side of Christmas and shining light on family bonding through the somewhat taboo experience of foster care also speaks to the inequality sentiment. Finally, the use of Blink 182's 'All the small things' as a song choice also shows they understand and want to share the message of finding joy in the small things in life. John Lewis is always one of the most highly anticipated Christmas ads, and so is unsurprisingly highly talked about online with 4.11k engagements, of which 50.7% were positive.
❄️
❄️
The clothing and home 'gifts that give' advert successfully taps into all three of our key sentiments. While Harry Styles song 'Treat people with kindness' plays over the top, the story depicts unity through a diverse neighbourhood coming together to celebrate in the street and a child's voiceover explains that gifts from M&S this year will help to support charitable causes through it's partnerships – a clear nod to awareness of inequality. At the beginning, a young boy presents his mum with a gift of a voucher for a lie-in showing M&S also understands the little moments of joy sentiment. Overall, the conversation around M&S Christmas adverts (the have a separate advert for food) had a very respectable 3M engagements, with 55.8% positive sentiment.
❄️
❄️
This advert focuses almost solely on little moments of joy with Will Ferell's Buddy the Elf spreading wholesome Christmas excitement, sharing the joy of 'making snow angels for two hours' with the Asda delivery men and telling a fellow cashier 'Singing loud for all to hear is the best way to spread Christmas joy'. The childlike enthusiasm and escapism of Christmas clearly hit a note with consumers, with 1.69k engagements online and the highest positive sentiment of the adverts, 76.6% of all conversations were positive.
❄️
❄️
From carefully chosen song lyrics and charity initiatives to showcasing stories and moments that speak to our need to feel united and joyful – these retailers all show how understanding the big themes in consumer sentiment is essential to hitting the right festive note.